25,000 trainees and counting: Why Hillphoenix is on a mission to educate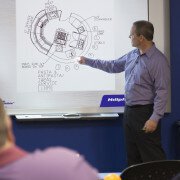 By Henry Pellerin
Hillphoenix Vice President of Marketing
As I look ahead to the upcoming Supermarket Sense — Hillphoenix's expert-led conference on food-retailing trends and opportunities — I'm reminded of how our company evolved into an industry educator and adviser.
It all started with technicians. In the 1990s and early 2000s, our manufacturing operations were on the front lines of technological change, leading advancements in alternative refrigerants and computer-enhanced refrigeration systems. By 2005, it was clear industry technicians weren't keeping up. So, we began to develop training programs for those who worked directly for retailers or operated as independent contractors.
That led to the creation of the Hillphoenix Learning Center, the first space the company dedicated solely to training. Over the past decade, 25,000 industry professionals have gone through courses offered at the center, at customer locations or online. Industry groups, including ASHRAE, have recognized us for our leadership role in providing training essential to the industry's success.
As we enter the second decade for the Learning Center — housed at our Conyers, Georgia, headquarters — the need for training is more critical than ever. Commercial refrigeration skills are in demand. The U.S. Department of Labor forecasts a 21% increase in jobs for heating, air conditioning and refrigeration mechanics and installers between 2012 and 2022 — much faster than average job growth. The $43,640 median salary for qualified refrigeration technicians outpaces the median salary for all U.S. workers by nearly $9,000 a year, according to Labor Department figures. Nonetheless, properly trained refrigeration technicians continue to be in short supply.
Our retail customers tell us they can't find enough qualified technicians. At the same time, we hear from independent refrigeration technicians who need to keep up with the changes in technology — their business depends on it. So, we do what we can to help both.
Plus, we've expanded our training to include retailers themselves. That's who'll be at the Learning Center Sept. 22-23 for Supermarket Sense. Our in-house experts on merchandising, store design, lighting, food safety, meal programs, shopper engagement and more will be joined by well-known industry adviser Harold Lloyd, Datassential's Mark DiDomenico and others — all focused on helping food retailers anticipate and take advantage of trends.