3 Ways Food Retailers Will Be Affected by New Commercial Refrigeration Standards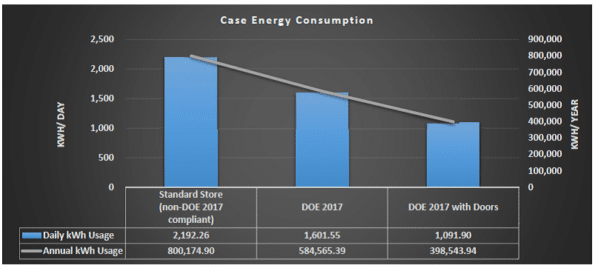 PART ONE OF THREE: THE NEW REGULATIONS AND THEIR EFFECTS
On March 27, 2017, new regulations from the Department of Energy requiring greater energy efficiency for commercial refrigerated cases will go into effect.  These standards apply only to commercial refrigeration manufacturers, but they will have a significant impact on food retailers in three important ways.  This three-part series will describe those effects and provide suggestions on how to best prepare for the changes.
The new limits, dubbed DOE 2017, apply to most models, but the biggest changes are happening with closed cases.  Because closed cases are already the industry's most energy-efficient models, reducing their energy consumption required the greatest feats of engineering.  Here are some of the ways Hillphoenix engineers met DOE 2017's requirement to reduce energy consumption of medium-temperature door cases by a whopping 28%:
Upgrading to LED lights
Repositioning anti-sweat heaters
Increasing coil efficiency
Improving fan motor efficiency
Adding occupancy sensors to operate lights
What do these mean for food retailers?
Many case models will change — and some will disappear. Existing cases are grandfathered in, but some of the refrigerated case models retailers have bought for years may no longer be available.  The new regulations mean manufacturers will have to sunset a number of model lines.  Food retailers will need to know how the equipment is changing and how to manage operating old and new cases in the same store environment.
New cases will operate differently. That could mean that the lighting looks different — and probably better — from what food retailers see in existing cases.  It could mean that the cases are quieter and the aisles are more comfortable for shoppers.
New cases will affect store humidity and temperature. DOE-required changes to refrigerated cases also mean that food retailers will have to make operational changes of their own — in particular, heating and air conditioning — to ensure comfortable, safe, visually appealing store environments for shoppers.
The good news is that DOE 2017-compliant refrigerated cases will bring some of the energy-saving benefits the Department of Energy envisioned.  In fact, a 70,000-square-foot supermarket can cut its annual kilowatt usage 50% by switching to DOE 2017-compliant cases with doors.
Energy use comparison: Standard vs. DOE 2017-compliant cases by Hillphoenix
Notes: Calculations based on a 70,000- square-foot supermarket.  Hillphoenix cases in this analysis exceed DOE 2017 requirements.  This analysis includes adding doors to packaged produce, meat and beverage cases.
To maximize these benefits and minimize potential challenges, food retailers need to begin preparing now for what's ahead.
NEXT:  WHAT TO EXPECT AND HOW TO GET READY