5 Critical Factors for Destination Center Success: A First-Hand Look
By Justin Webster, Hillphoenix
It's one thing to talk about the five critical factors for destination center success (Menu, Layout, Equipment, Merchandising, and Talent); it's another to see them in action. Conference-goers who signed up for Store Tours at last month's FMI Connect had the chance to step out beyond the show floor and see how three Chicago food retail establishments are putting these principles into practice to change the way shoppers think about the traditional grocery store.
The "Retail, Dining, Culinary, and Design Trends" tour started inside the Expo at the Hillphoenix booth with a look at the latest trends in store design, covering everything from lighting, to display equipment, to efficient space design. From there, tour participants set out to visit some of the most cutting-edge food retail establishments in downtown Chicago.
At Mariano's, a concept supermarket that opened its first store in the Chicago area in 2010, visitors had a first-hand look at the Italian coffee shop, the sushi bar, the wood-fired pizza oven, and the grill station, where customers can have their meat and seafood purchases grilled on the spot for no extra charge.
Tour participants saw a prime example of the five critical factors in evidence at the store's "Squeez'd" juicing station, which goes beyond traditional juice bar offerings to create a fresh destination for all times of day. The menu draws customers in from breakfast to lunch to dinner with ingredients for morning smoothies; fresh salsas, dressings, and sauces; cocktail and Bloody Mary mixes; ice creams; and healthy desserts. Refrigerated cases keep the juice station menu ingredients fresh and attractively displayed, while versatile food prep equipment chops, blends, and purees to perfection. Behind the counter, carefully selected and trained team members engage customers with samples and simple recipe demonstrations. The station's clean layout and visible location within the produce section makes it easy for customers to see the action and pick up prepared products or fresh ingredients to take home.
From Mariano's, the tour moved on to upscale Eataly, where a new gelato bar is the latest addition to the nearly 30 different dining options spread out over 63,000 square feet on two floors—plus an alfresco Italian seafood restaurant on the roof.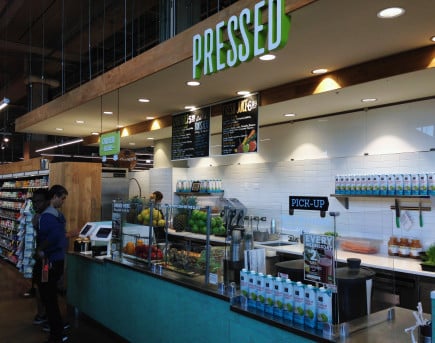 The tour concluded at the Lincoln Park branch of Whole Foods, one of the regional format stores for the high-end supermarket chain, where the focus is on fresh foods and beverages from the surrounding Midwest, including salumi from the West Side of Chicago, beef and pork bred in Iowa, and craft beers brewed in nearby Milwaukee.
For destination center inspiration, nothing beats a first-hand, in-person look at retailers like these who are ahead of the curve in aligning menu, layout, merchandising, talent, and, of course, equipment from forward-thinking suppliers like Hillphoenix, to give today's consumers the healthy, fresh, and convenient solutions they're looking for.
Click to learn more about Destination Centers by Hillphoenix.