Features and Benefits
Sled runner base construction.
Standard 51"H with 7-13/16"H Toekick height.
45 degree front dieboard.
Painted metal exterior.
Stainless steel base trim, front and sides.
Stainless steel exterior trim.
Stainless steel outside back and case top.
Reflective rear load doors.
Single-pane regular glare flat front lift glass.
Stainless steel interior and trim.
Stainless steel dry heat well with divider bars for 4"D. full size pan and 1/3 display (pans optional).
Overhead ceramic heating elements with 100W incadescent lighting.
Low wattage, long wave radiant heat system.
Dry heat, no water connection required.
Electronically controlled zone heating.
Rear mounted heat controls.
2" dial thermometer.
Energy efficient fans.
Rear electrical raceway.
Available Options
Available lengths: 4', 6', 8', 10', and 12'.
Bullet leg base with adjustable height toekick.
Black painted metal base trim.
Cart bumper.
Exterior stainless steel finish.
Solid surface or stone case top.
Integrated case top scale stand.
Adjustable scale stand (interior strut mount – 8' and 12' only).
Pans, stainless steel solid deck sections and hot ceramic tiles.
Curved regular glare front lift glass.
Rear flip up work boards.
ISO outlet/CON outlets.
Thermal glass divider or glass ends, solid or MPSS.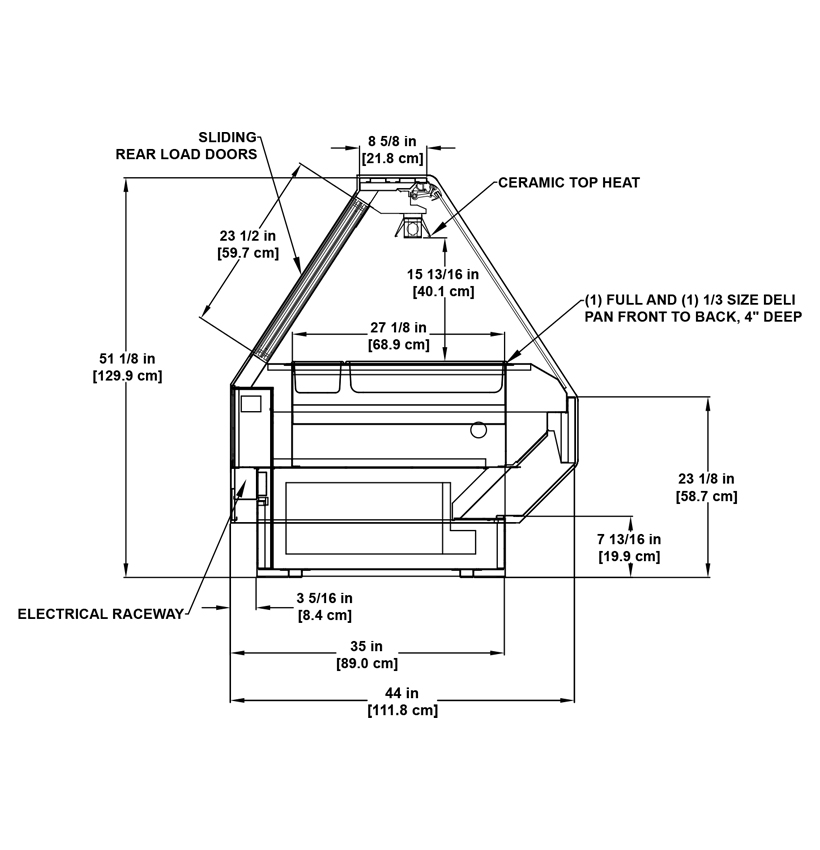 Please consult Hillphoenix Engineering Reference Manual for dimensions, plan views and technical specifications. Specifications subject to change without notice. Designed for optimal performance in store environments where temperature and humidity do not exceed 75°F and 55% R.H. Certified to UL 471, ANSI/NSF Standard 2,7,51 and CAN/CSA C22.2.