Service Single-Deck
Refrigerated merchandiser for seafood.
Features and Benefits
Bullet leg base with adjustable height toe kick.
Standard 56-7/16"H and 46-1/4"D.
Ice application ONLY.
60° front die board.
Stainless steel outside back including rear base trim.
6-1/4"D stainless steel, rear work ledge — no overhang.
Open back.
34"H, 10.5° angled, single-pane, regular-glare flat front swing glass with front glass supports.
Full height 1/2" plex side returns on interior of end panel to match front glass angle.
Stainless steel interior.
Fixed 18° angle cleated, insulated stainless steel ice deck.
4" stainless steel bottom deck product stop.
Stainless steel drain pan with drain screens.
Rear electrical raceway.
Remote DX refrigeration package.
Solar digital thermometer.
Available Options
Available lengths: 4', 6', 8', 10' and 12'.
Interior or exterior miters up to 22.5° available with straight case sections. Adjacent Units must also contain a miter.
90° interior or exterior wedge standard is 2' straight case section with 22.5° miters on each end.
Alternate toe kick height: 15-15/16"H for overall rear ledge height at 43-1/2"H and front glass at 29-7/8"H.
Inlet and outlet options.
Yellow safety steps (recommended on all case heights over 38-1/2"H).
BSD-SL sliding hardware option.
Vertical glass option with front glass supports.
Flat front profile.
Sled runner base.
False pedestal or pedestal base.
Humidification system (increases overall rear ledge height by 4" for housing).
Flush system.
Plexi or stainless steel dividers.
Ice pans.
Adjustable scale stand.
Paper cutters.
Rear fixed or flip-up work boards.
Cart bumper.
ISO outlet/CON outlets or CAT5.
Front electrical raceway.
Remote glycol refrigeration package.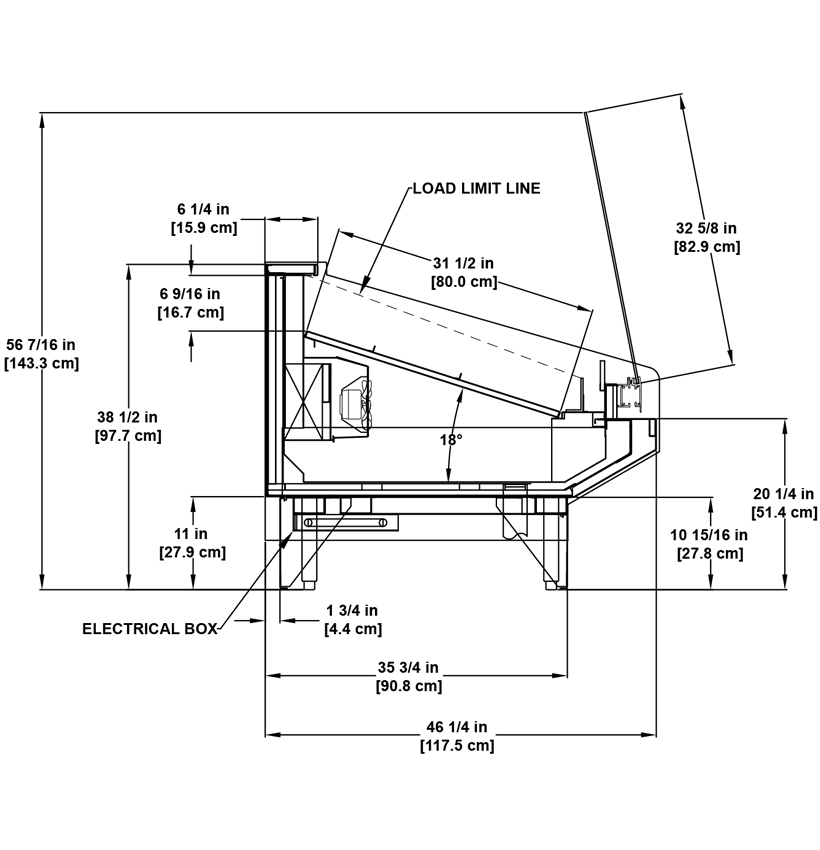 Please consult Hillphoenix Engineering Reference Manual for dimensions, plan views and technical specifications. Specifications subject to change without notice. Designed for optimal performance in store environments where temperature and humidity do not exceed 75°F and 55% R.H. Certified to UL 471, ANSI/NSF Standard 2,7,51 and CAN/CSA C22.2.