Service Multi-Deck
Non-refrigerated merchandiser for bakery.
Features and Benefits
Choice of standard grade laminate exterior, interior and outside back.

Stainless steel interior and exterior trim.

Dual ceiling lights.

 Mirrored polished stainless steel inside back.

Square cornice and straight front.

Shelving (RB) – two (2) 10" rows of adjustable chrome, white, or black wires shelves, 2 Plexiglas roll bins with T dividers and oak crumb tray (D) – four (4) 26" adjustable chrome, white, or black wire shelves.

Under-shelf lights.

Frameless doors of 1/4" tempered glass; RB and D models are self-closing and hinged on the ends.

Conforms to UL Standard 65 and NSF Standard 2.
Available Options
Mirror polish stainless steel, glass, laminate or plexiglas ends.

Interior and exterior brass trim.

Exterior painted metal.

Laminated rear load doors.

Reflective rear load doors (RB & D models).

BLF profile.

Radius top.

Lighted cornice with custom lettering.

Lazered lettering on cornice.

Cart bumper, oak accent rail or color accent band.

Wood shelves.

Oak bag storage ledge.

Corian top for bag ledge.

Recessed bag and tissue storage.

Dry rear storage with sliding doors.

Open dry rear storage.

Non-glare glass doors.

Recessed trash/waste bin.

Wire bagel baskets.

Casters.

Recessed casters.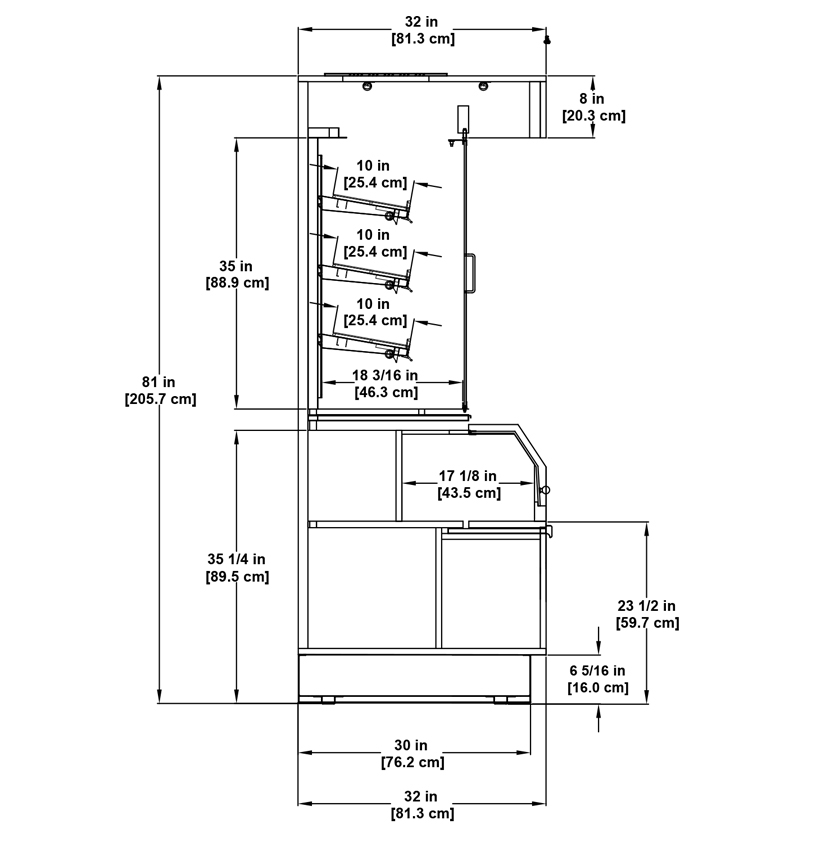 Please consult Hillphoenix Engineering Reference Manual for dimensions, plan views and technical specifications. Specifications subject to change without notice. Designed for optimal performance in store environments where temperature and humidity do not exceed 75°F and 55% R.H. Certified to UL 471, ANSI/NSF Standard 2,7,51 and CAN/CSA C22.2.