Self-Service Multi-Deck
Refrigerated back bar merchandiser with lower storage.
Features and Benefits
Open bullet leg base construction (6"H).
Standard 86"H.
Painted metal exterior.
Stainless steel exterior trim.
Unpainted outside back and case top.
Painted to match exterior gray-framed lower storage doors.
Black painted metal interior.
Flat bottom merchandising deck.
(3) rows each of 12" adjustable flat painted metal shelving.
LED top lighting.
Standard white painted metal dry lower storage with solid sliding doors and (1)18" adjustable metal shelf.
Front electrical raceway.
Energy efficient fans.
Remote DX refrigeration package.
Available Options
Available lengths: 4', 6', 8', 10', and 12'.
Adjustable height painted or stainless steel toekick.
Interior and exterior stainless steel finish.
White or other painted metal interior finish.
Laminate, poly, solid surface, or stone work top (changes metal under from stainless to painted to match exterior).
(2)rows 10" perforated stainless steel shelving with front hanging rods and hooks (replaces standard shelving).
(2)rows 12" glass shelving (replaces standard shelving).
Radius or flat wood front shelving.
2' shelf package.
Stainless steel 12" perforated lettuce bin shelving (replaces standard shelving).
LED undershelf lighting.
Extended front work ledge.
Refrigerated lower storage with clear glass doors.
ISO outlet/CON outlets.
Remote glycol or CO2 refrigeration packages.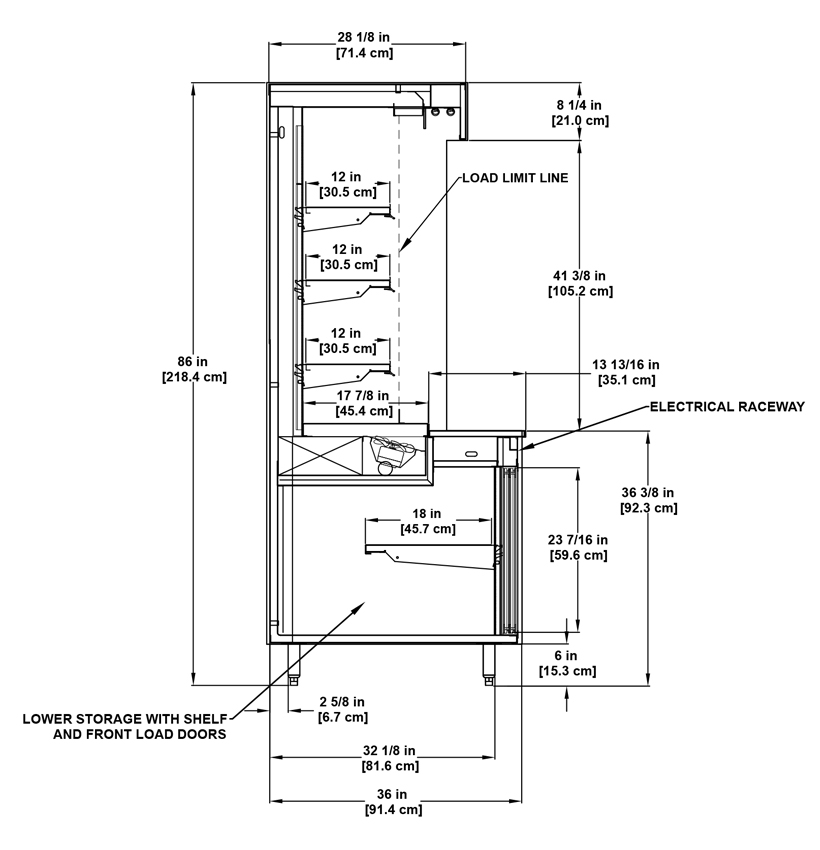 Please consult Hillphoenix Engineering Reference Manual for dimensions, plan views and technical specifications. Specifications subject to change without notice. Designed for optimal performance in store environments where temperature and humidity do not exceed 75°F and 55% R.H. Certified to UL 471, ANSI/NSF Standard 2,7,51 and CAN/CSA C22.2.