Service Single-Deck
Refrigerated merchandiser with slide vertical glass for deli and bakery.
Features and Benefits
50-3/8"H & 42"D.
Sled runner base construction.
60 degree dieboard.
Painted metal exterior.
15-15/16"H base painted metal to match exterior.
Stainless steel exterior trim.
3/8" glass case top.
Stainless steel outside back and rear work ledge.
Removable, clear plexiglas rear load doors with rear mounted hangers for storage.
1/4" single-pane, regular-glare vertical swing front glass.
Black painted metal interior.
LED top lighting.
Rear electrical raceway.
Energy efficient fans.
Remote DX refrigeration package.
Available Options
Available in 4′, 6′, 8′, 10′ and 12′ lengths.
Mirror polish stainless steel, thermal glass divider or glass ends.
Alternate toekick height 13-5/16"H.
Exterior standard grade laminate.
ISO outlet.
Interior or exterior stainless steel finish.
Cart bumper.
Removable plexiglas rear sliding doors.
Polytop, solid surface or stainless steel flip-up work tops.
Integrated case top scale stand with dedicated circuit for ISO receptacle.
Adjustable scale stand.
Alternative case thermometer.
Remote glycol or CO2 refrigeration packages.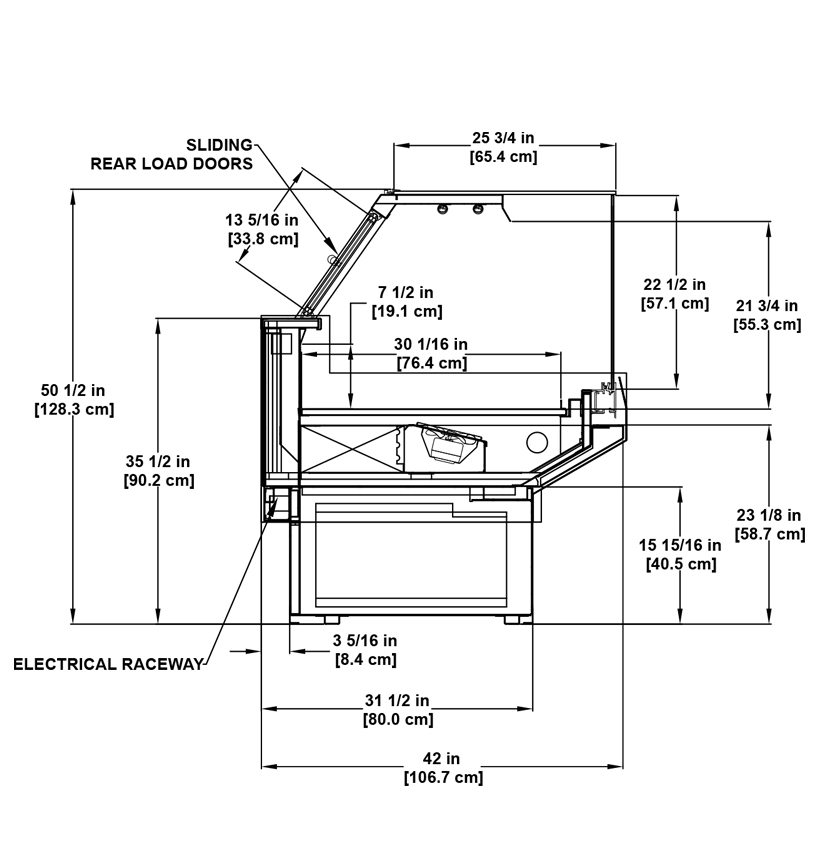 Please consult Hillphoenix Engineering Reference Manual for dimensions, plan views and technical specifications. Specifications subject to change without notice. Designed for optimal performance in store environments where temperature and humidity do not exceed 75°F and 55% R.H. Certified to UL 471, ANSI/NSF Standard 2,7,51 and CAN/CSA C22.2.