Self-Service Single-Deck
Mobile merchandiser for bakery, cheese, deli, meat, produce
and beverages.
Features and Benefits
Open base construction
Casters.
Standard 46-1/2"H and 48"D.
Standard 17-3/4"H base w/casters.
Painted metal exterior, including case top.
Stainless steel exterior trim.
Painted metal to match exterior front and side base.
2" Deep full height rear chimney extension for airflow management, with moire pattern discharge (on selfcontained models). – The removable outside back of chimney and top enclosure are painted to match exterior.
5-1/2"H x 1/2 "thick polished front dieboard plex.
Black painted metal interior.
Interior trim to match interior.
Fixed flat bottom deck with open back 3"Hx18-5/8"D perforated(front) step riser-base + 2 (each step is 1-1/2"H x 9-5/16"D).
Interior trim to match interior.
Front electrical raceway.
Solar digital thermometer.
Energy efficient fans.
Self-contained.
Available Options
Available lengths: 2', 4', 6', and 8' (self-contained versions).
(1)row each 10" adjustable-angled painted metal shelf (limits adjustability with additional angled wire shelf option).
Adjustable-angled wire shelf in lieu of base + 2 step riser.
Painted metal base trim.
Interior and exterior stainless steel finish.
LED top light.
White or other painted metal interior finish.
LED undershelf lighting.
Cart bumper.
Solid interior painted, solid interior mirror polish stainless steel, thermal glass divider or glass ends.
Addition of upper, dry, (1)row each lighted 18"D adjustable angled wire shelf with wire product stop (MMRA style upper shelf).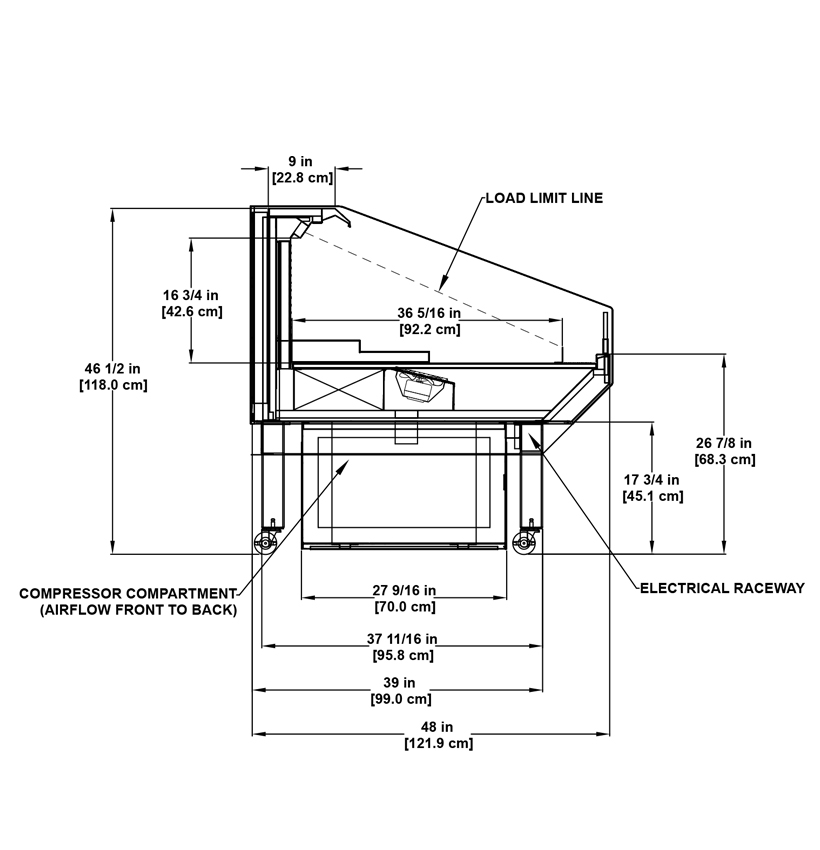 Please consult Hillphoenix Engineering Reference Manual for dimensions, plan views and technical specifications. Specifications subject to change without notice. Designed for optimal performance in store environments where temperature and humidity do not exceed 75°F and 55% R.H. Certified to UL 471, ANSI/NSF Standard 2,7,51 and CAN/CSA C22.2.