Self-Service Multi-Deck
Refrigerated full-height floral and wine merchandiser with doors.
Features and Benefits
Sled-runner base construction.
Standard 81"H and 37-1/4"D.
Standard 5-1/2"H toekick.
Straight front profile.
Painted black exterior and case top.
Painted black exterior trim and front, side and base trim.
Unpainted galvanized outside back and rear toekick.
Standard painted black interior.
Floral shelving has (2) rows each 16" flat glass shelves.
Wine shelving has (3) rows each 22" black brackets w/ wire racks.
120-1-60 electrical.
LED top lighting.
LED vertical lighting on black door frame.
30" RG glass Anthony doors hinged left.
Ballast box.
Remote DX refrigeration package.
Available Options
Glass or solid interior or mirror plex end panels. – Line-ups must have ends left and right. *Wine shelving 4th row.
Shelf lights are not an option.
White wire, black or white painted metal shelving.
Mirror polished SS inside back.
UBS cart bumper.
Remote glycol or CO2 refrigeration package.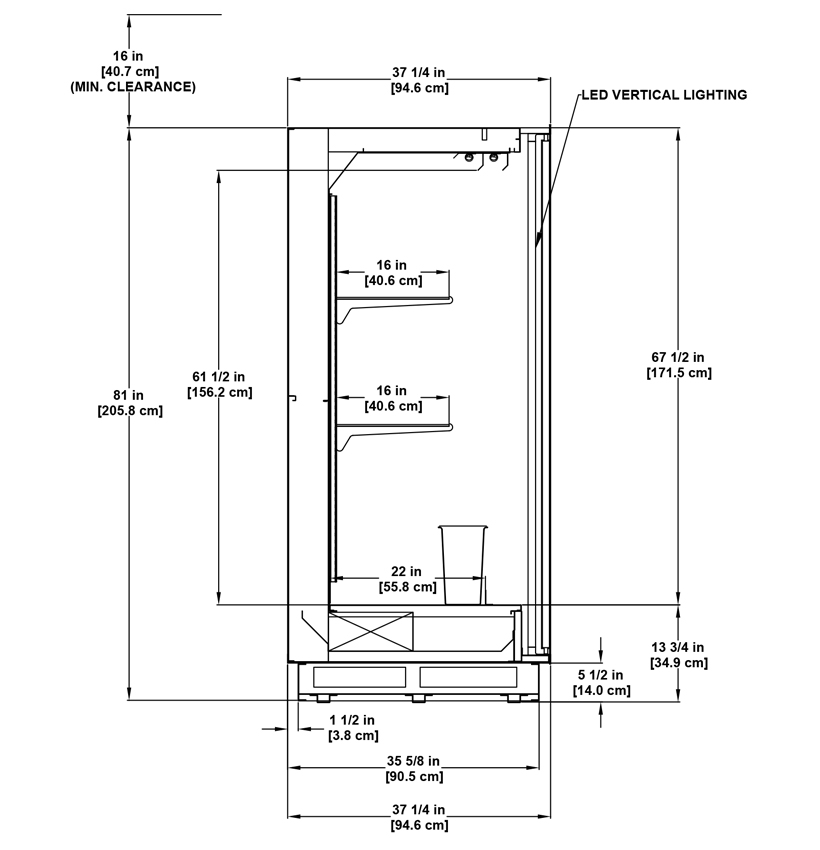 Please consult Hillphoenix Engineering Reference Manual for dimensions, plan views and technical specifications. Specifications subject to change without notice. Designed for optimal performance in store environments where temperature and humidity do not exceed 75°F and 55% R.H. Certified to UL 471, ANSI/NSF Standard 2,7,51 and CAN/CSA C22.2.