Self-Service Hot Dome Multi-Deck
Medium-temperature merchandiser for sandwiches, salads, beverages, pizzas and hot foods.
Fast Facts
Hot service dome with the refrigerated self-service display provides opportunities in a small footprint to allow for cross merchandising from hot foods to beverages.

Easy-to-remove painted or stainless metal interior parts ensure ease of case cleaning, piece-by-piece, without tools for improved food safety, reduced labor costs, and a sanitary environment ready to be merchandised.
*Product images may include additional options.
Optional Laminates
Select a laminate swatch below and see how it looks on the case.

Laminate colors & textures on screen may vary when compared to physical color samples. 
Base Model Features
Available lengths – 4', 6', 8', 10' and 12'.

Base dimensions: 34"H x 51"D.

20-1/4"H hot dome.

Black painted metal exterior.

Stainless steel outside back and dome top.

Stainless steel interior in hot service dome.

2-1/2"D pan display (pans not included).

Single-pane, regular-glare flat lift front glass.

Matte black painted metal interior and trim for self-service.

Solid end panels with mirror-polished stainless steel interior.

Stainless steel exterior trim, base trim and outside back panel.

1 row of 10" non-lighted adjustable shelf: 0, 5 and 15° tilt.

Aluminum price tag molding with 1/2" integrated product stop.

1 row high output LED Clearvoyant cornice light.

Solar digital thermometer.

Refrigeration:
– High-efficiency fan motors.
– Time-off defrost.

Conforms to UL Standard 471, NSF Standard 7 and CAN/CSA C22.2.
Available Options
55" case depth.

38" base height.

Exterior finish options: Stainless steel, additional paint colors and laminate.

1" bumper on front panel of case and mounted on bottom of front panel.

1" bumper added to end panels.

White or stainless steel case interior.

Vertical lift front glass dome.

Removable hot tiles in dome.

1 additional row of shelving with PTM in the 38"H case option only.

Under-shelf lighting: LED Clearvoyant.

End panels: Full-view glass, common end panels or scalloped end panels.

Dry rear storage with solid doors and grey door frames.

Temperature control TStat.

Solenoid.

Temperature sensor.

Self-contained refrigeration package.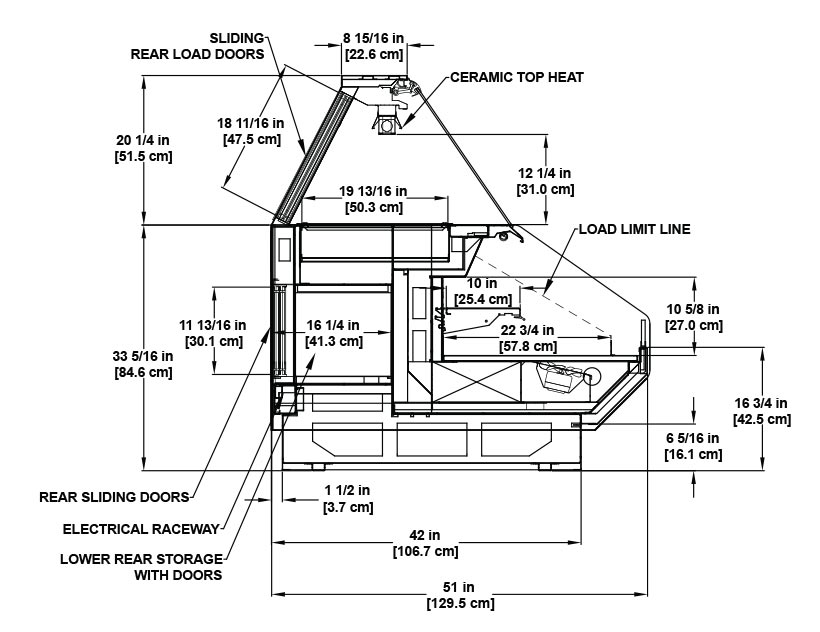 Please consult Hillphoenix Engineering Reference Manual for dimensions, plan views and technical specifications. Designed for optimal performance in store environments where temperatures and humidity do not exceed 75F and 55% R.H. Specifications are subject to change without notice. Certified to UL 471 and ANSI/NSF standard 7.