Service Single-Deck Merchandiser with Flat Fixed Glass.
Deli and meat applications.
Features and Benefits
C-frame with Bullet Leg Construction.
Standard 50"H with 10"H base frame height.
Exterior: Painted metal, including lower front panel above base.
Stainless steel base trim, front and sides.
Stainless steel exterior trim.
Painted metal outside back and rear base trim.
Stainless steel top sill.
Clear rear load doors with black frames.
26"H – 7/8" thermopane, insulated regular-glare flat fixed front full length glass.
Stainless steel interior.
Interior trim to match interior.
Black plastic coil covers with fixed black wire rack.
LED canopy lighting.
Rear electrical box mounted behind the lower rear panel, customer left.
Oversized gravity coil meat model.
Serpentine Coil.
Electrical slide out tray
Solar digital thermometer.
Available Options
Available lengths: 4', 6', 8' and 12'.
Case heights available: 48″, 52" and 54".
Alternate flexible base heights include: 8", 10", 12" and 14"H.
Extruded polymer base trim.
Painted metal base trim.
Master with nose bumper.
Cart bumper (for flat front profile).
Exterior stainless steel finish.
Solid surface or stone case top.
Integrated case top scale stand.
Adjustable scale stand.
White plastic coil covers.
Adjustable wire racks.
Heavy-duty stainless steel deck.
Reflective rear load doors.
Z, step or slant risers.
Rear flip-up work boards.
ISO outlet/CON outlets.
Solid interior mirror polish stainless steel, thermal glass divider or glass ends.
Remote glycol or CO2 refrigeration packages.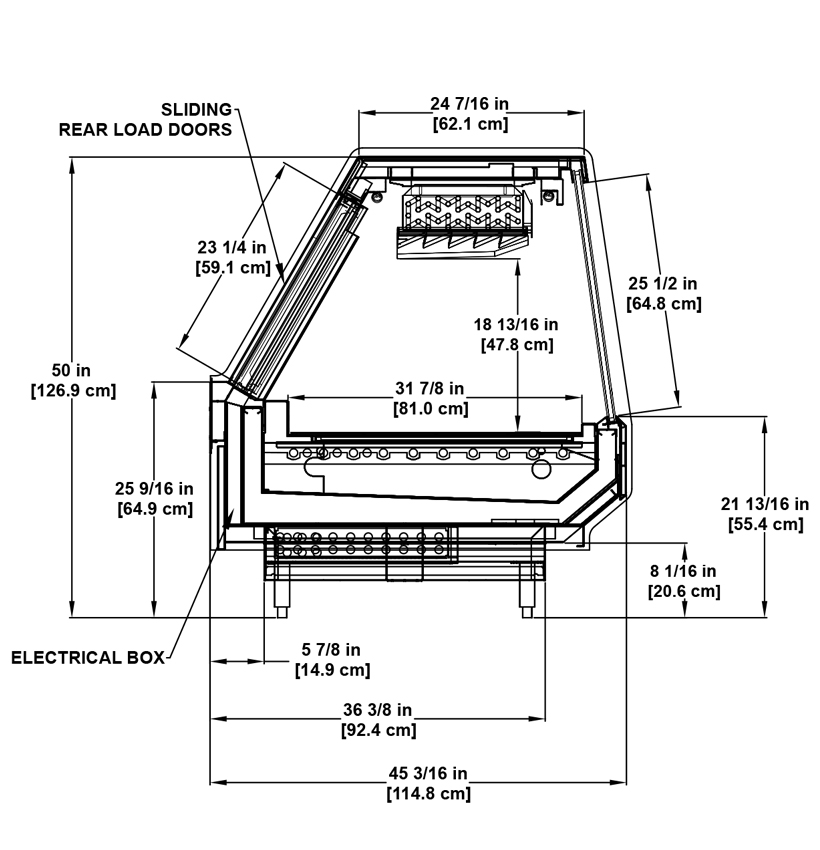 Engineered for stores with ambient conditions not to exceed 75o and 55% relative humidity. Due to engineering improvements specifications may change without notice. All measurements are taken per ASHRAE – 72 – 2005 specifications. Hillphoenix refrigerated display cases for sale in the United States meet or exceed department of energy 2017 efficiency requirements Numbers are based on standard case sizes. Consult engineering.