InviroPac Indoor Distributed Refrigeration Systems
The flexible InviroPac™ indoor distributed refrigeration systems can be configured in almost any way necessary to meet your store's specific requirements.
Features & Benefits
InviroPac™ from Hillphoenix® is a packaged, indoor distributed refrigeration system and is available in horizontal and vertical configurations. InviroPac is engineered with up to 8 reciprocating or scroll compressors in the horizontal unit and 4 reciprocating or 6 scroll compressors in the vertical unit. Both units are available with loop piping, stubs and discharge and liquid components mounted inside the cabinet. These unique designs allow our application experts the ability to custom engineer your InviroPac to match a wide range of refrigeration requirements. Using InviroPac will require fewer units per store when compared to competitive offerings and uses a lower refrigerant charge when compared to central rack systems. It is ideally suited for locations inside the backroom.
Easy Installation
InviroPac units can be mounted in a variety of locations. Horizontal units are ideal for mounting on top of refrigerated walk-in boxes, while the vertical unit is well-suited for setting on the floor in your backroom. InviroPac units can be provided to handle all of your case electrical needs. All that is needed to install the InviroPac in your store is to simply mount in place and connect to your store's piping and wiring. InviroPac is ready to go almost immediately.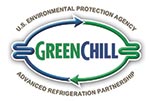 Better Practices Make Better Systems
There are many reasons why Hillphoenix® Refrigeration Systems continues to lead the industry. Why? No matter what the application or the specific refrigeration need, we can offer our customers a wide variety of options and configurations. The simple answer is that we harness the best technologies and field-proven procedures and fit them to a higher set of standards.