AdaptaPak Small Format Distributed Refrigeration Systems
Designed for convenience stores, discount stores, drug stores, and small footprint food retail stores.
Fast Facts
AdaptaPak installations ramp capacity up or down to more closely match refrigeration loads and provide 20% or more energy savings compared to a single condensing unit.

AdaptaPak integrates all of the high-pressure side components into one easy-to-install package.

Electrical and refrigeration connections can be on the same side making it easier to install in areas with minimal clearances and space.

The isolated compressor section can be easily accessed while unit is operational without interrupting airflow.
Base Model Features
Pre-painted galvanized steel cabinet.

Emerson scroll compressors.

Centrifugal-style discharge oil separator with integral oil receiver.

Replaceable core filter/drier and sight glass.

Oversized receiver.

Through-the-door disconnect.

IEC contactors.

Phase loss monitor with brownout protection.

MultiMax system controller.

Two suction groups or single suction group (model-dependent).

One digital scroll per suction group (if available).

R-407A, R-448A and R-449A refrigerants.

Suction filter per suction group.

Low-pressure control per suction group.

High-pressure control per compressor.

Fixed-speed AC motors.

Digital liquid level alarm (on receiver).

208-230V/1ph/60Hz power and control wiring.
Available Options
Alternative controls packages.

Variable-speed EC motors.

Electrofin coated coil.

Cold weather package (split condenser/heated and insulated receiver).

Hail guard.

Heat reclaim valve package (remote only).

Analog liquid level indicator.

Low-pressure control per compressor
Estimated Weight
---
2 Fans Configuration = 3,000 lbs
---
3 Fans Configuration = 3,500 lbs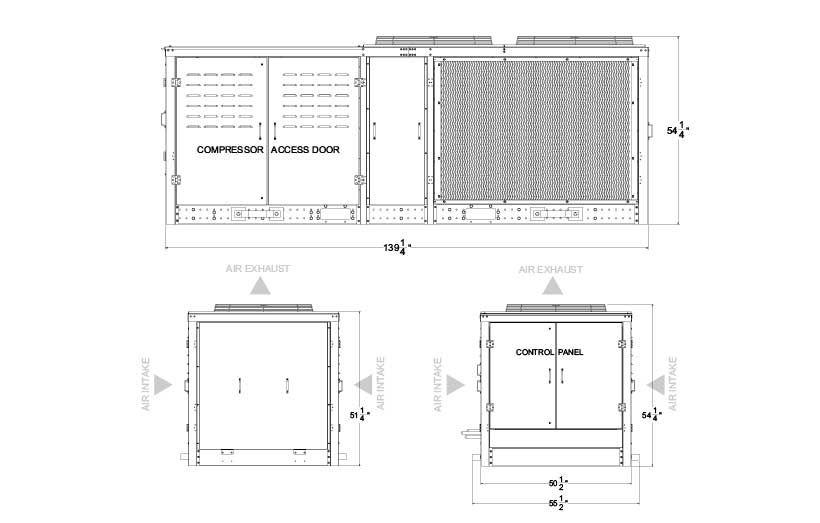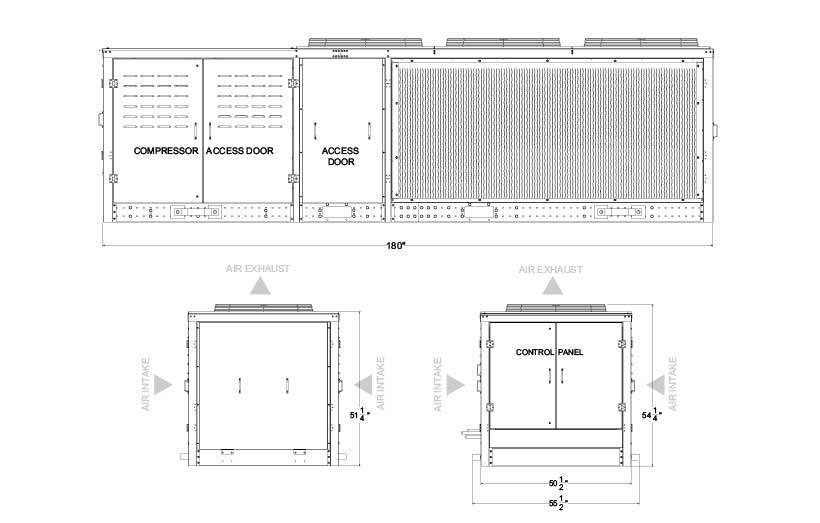 Please consult Hillphoenix Engineering Reference Manual for dimensions, plan views and technical specifications. Specifications are subject to change without notice. Certified to UL 471 and ANSI/NSF standard 7.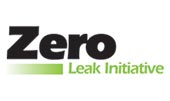 Better Practices Make Better Systems
There are many reasons why Hillphoenix® Refrigeration Systems continues to lead the industry. Why? No matter what the application or the specific refrigeration need, we can offer our customers a wide variety of options and configurations. The simple answer is that we harness the best technologies and field-proven procedures and fit them to a higher set of standards.