"Wow" Destination Center Shoppers with Creative Merchandising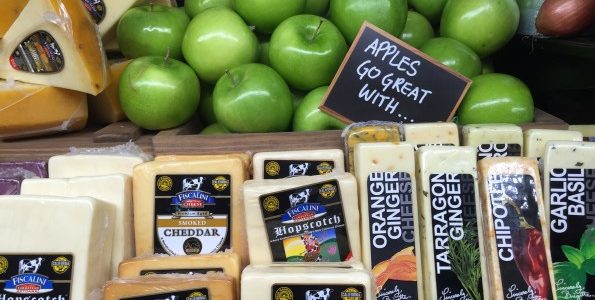 By Margie Proctor
Hillphoenix Marketing & Design Specialist
Two-thirds of shopping decisions are impulse buys. Destination Centers are perfectly suited for creative merchandising that captures shoppers' attention and gives them reasons to buy. Retailers can devise a strategic merchandising plan by asking themselves the following questions.
How do I want the customer to experience my Destination Center?
Merchandising in a Destination Center is about the "wow" factor. A Destination Center is not a place to warehouse staple products. It is an interactive destination where customers are invited to engage their senses with the products offered. It should be the place shoppers automatically think about when they crave a certain product, a place where they make a point to stop by, and a place where they are enticed to linger and interact with employees.
What products will be merchandised in my Destination Center?
A Destination Center can be any department in a grocery store. In selecting items to merchandise, look first at what the Destination Center is known for and create excitement around those products. A Destination Center also is an ideal place to promote a store's private label products and to cross merchandise products from other departments.
What are the most effective and eye-catching ways to display and arrange food items to tie in with the Destination Center décor?
Creating the wow factor is all about the placement and configuration of products. Merchandisers should create a focal point to grab shoppers' attention and engage them with a positive vibe. The focal point is something unique that gets shoppers to stop and look. For example, merchandisers in a sandwich Destination Center presented a large turtle sandwich in a display. By partnering with the bakery department, they baked a turtle-shaped loaf of bread with the shell cut in half and layered with deli meats and cheeses. Natural materials were used to create a beach theme around the turtle sandwich featuring the store's private label salads. Successful Destination Center merchandising is bold and aims to surprise shoppers with the unexpected.
What hardscape items such as dishes and display ware do I need to highlight the food being merchandised?
Food is the centerpiece of the Destination Center, and the display case, hardscape items, lighting and finishes all come together to complement the food. Hardscapes allow merchandisers to vary elevations to add visual interest. When incorporating hardscape items, use neutral colors and let the food stand out. In the image shown, sandwiches are placed on industrial-chic metal risers and in wood-like bowls. Positioning the sandwiches so that the ingredients are visible to shoppers stimulates cravings and impulse buys. When planning a display, it is important that merchandisers understand the area inside the case and are careful to not negatively impact its functionality. Exceeding the recommended height load line, for example, may block the air return and discharge and impede upon the refrigeration air curtain.
How do I engage the five senses?
A Destination Center is an interactive place where shoppers engage all of their senses. Eighty-five percent of the information received through our senses is visual. Thoughtfully planned wow-worthy displays attract attention and keep shoppers coming back for more. While in a Destination Center, shoppers should be able to smell the aromas and hear the sounds of food being freshly prepared and taste samples offered by knowledgeable employees.
Is product packaging a consideration?
The most effective packaging highlights the food inside and entices shoppers to purchase a product. It should convey freshness, maximize shelf life and shelf space and look pleasing under lighting. When planning to wow shoppers, merchandisers should test samples to ensure packaging is the optimum size, does not create a glare, or distract from the product inside.
How do I use signage to entice customers?
The finishing touch to merchandising is signage. It can communicate price, suggest pairings, draw attention, and provoke shoppers to try something new. For instance, in a wine and cheese Destination Center, signage on bottles may suggest a variety of cheese pairings. This generates interest, taps into shoppers' emotions and inspires them to imagine themselves enjoying a bottle of wine with a cheese platter at their next dinner party.
By incorporating the wow factor into merchandising, Destination Center managers make products highly visible with a twist of the unexpected. A successful merchandising strategy gives shoppers a new experience each and every time they enter a Destination Center and reason to come back for more.
Click to learn more about Destination Centers by Hillphoenix.