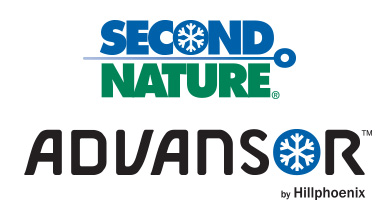 CO2 Trans-critical Booster System for Display Case Refrigeration
The Advansor CO2 Display Case Refrigeration Systems is an HFC-free refrigeration alternative that utilizes carbon dioxide as the only refrigerant in the system. Supermarkets, grocery stores, small format and large format food retailers can take advantage of the inherent benefits of CO2 and combine them with those of other Second Nature systems – reducing direct refrigerant emissions to the lowest level possible.
Features
Air-cooled gas cooler with variable-speed fans.

Electronic-controlled, high-pressure control valve and flash gas bypass valve ensure optimal performance at all ambient conditions.

Simple electronic oil management system ensures adequate lubrication and long compressor life.

A suction accumulator and heat exchanger protect low-temperature system from liquid flood-back.

CO2 reciprocating compressors for both low- and medium-temperature loads have proven themselves in thousands of installations worldwide.

Specially-designed evaporator coils for CO2 direct expansion operation provide good oil return back to the system.

Electronic expansion valves on all evaporators ensure efficient coil operation.
Benefits
It's an HFC-free system – CO2 (R-744) is the only refrigerant used.

CO2 is a "natural refrigerant" that is non-ozone-depleting (ODP=0) with almost no global warming potential (GWP=1).

CO2 transcritical systems have proven themselves in thousands of installations throughout Europe.

Advansor technology has over 2000 installations and counting.

The system's higher quality heat reclaim opportunities improve store energy performance.

Advansor systems require a lower CO2 charge and have a smaller weight and footprint compared to CO2 secondary systems

More efficient than conventional HFC systems in some climates.

An excellent way to help achieve GreenChill Platinum-Level Certification.
Better Practices Make Better Systems
There are many reasons why Hillphoenix® Refrigeration Systems continues to lead the industry. Why? No matter what the application or the specific refrigeration need, we can offer our customers a wide variety of options and configurations. The simple answer is that we harness the best technologies and field-proven procedures and fit them to a higher set of standards.